40th Birthday Celebration
Sharing the learning journey
40th Birthday Celebrations at MRIS!
All the fun from the recent MRIS 40th Anniversary (formerly NFS). thankyou to everyone who made it such a wonderful day… photos by Lauren Trickett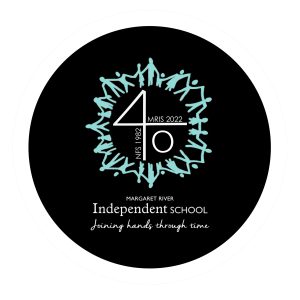 Celebrating 40 Years in 2022 at MRIS
Next year we celebrate our 40th year Anniversary – yes it's true! We have been teaching and nurturing children for four decades.
On Saturday, January 29, 2022 we will reflect on MRIS's diverse history, celebrate our alumni's achievements, and look towards another 40 years!
https://www.facebook.com/MRIS40thanniversary
 As part of Margaret River Independent School's 40th Celebrations we are appealing for your support to help improve the usability of the school's Hard Court in summer and winter for current & future students, by covering this structure. Please donate to our GIVENOW fund to help make this vital structure a reality.  http://www.givenow.com.au/mris
This is a celebration for our whole school community, current and past, so please save the date and come along!
If you would like to get a head start on flexible parent hours we would welcome any help before, during or after the event.
For further information contact the office on 0897577515 or email [email protected]