MRIS Alumni
Our school, formerly Nyindamurra Family School, marked a milestone in January – 40 years!
This means we have been teaching and nurturing children for nearly four decades. As we look back on the school's diverse history we are also reflecting on the achievements of our alumni. We want to keep you in touch….let you know what is happening at the school – new infrastructure, new programmes and old students who come back as teachers or staff (yes we are fortunate to have many of these!) 
You might also want to drop into the school when you are visiting  Margaret River or attend one of our social events – the Art Auction, Open Day, High Tea or our Alumni celebrations.
Where in the world are MRIS alumni?
Alumni networks
Get in touch with MRIS alumni across the world and re-discover those special friendships forged at school. Reconnect
Alumni Stories
Share in some of the amazing and inspirational learning journeys and stories of professional success from the MRIS alumni community.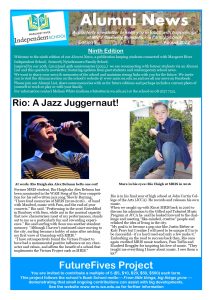 Alumni Newsletter – Edition 5 (feat Creed McKinnon)
Alumni Newsletter – Edition 6 (feat Jacob Sutton)
Alumni Newsletter – Edition 7 (feat Josh Loyd)
Alumni Newsletter – Edition 8 (feat Byron Sowerby)
Contact MRIS Alumni
Contact the alumni team by emailing [email protected] or calling 0897577515.
You can also Fill in the Reconnect form so we can keep you in touch. 
We would love to hear from you – so please send through your details.