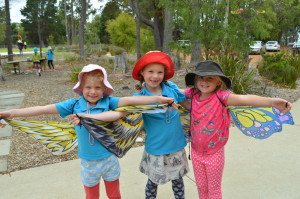 Year 1 students donned wings to play during recess today.
The cute wing sets are part of imaginative play in the Year 1,2 and 3 and will be complimented with specially enhanced Playspaces currently under construction at MRIS.
There are also a range of workman outfits, wheelbarrows, stop- go signs, shovels and hard hats.
Year 1 teacher Skye Robertson said parents are building sturdy bush lean-tos and a platform sail boat, a weaving wall and noughts and crosses tables.
Any donations of decking offcuts for a seating project, tarps, sail-type fabric, rope and pulleys,big nuts and bolts, mud kitchen (wooden utensils, bowls and pots) magnifying glasses or lenses would be greatly appreciated.
Skye said the creative costumes and Playspaces were designed to aid the fluid transition from Pre-primary to Year 1.