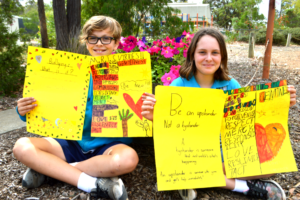 The National Day of Action against Bullying and Violence is this Friday and MRIS students are doing their bit to counter bullying and violence.
Students are embracing the opportunity to highlight their everyday work to counter bullying and violence through; the use of virtues and unpacking them as a 'go to space' for
resolution and to make peace; the 'No Blame No Shame' policy; PATHS (Promoting Alternative Thinking Strategies) problem solving; and by addressing problems for kids.
After last year's visit to MRIS from Martin Luther King 111, students decided to look at Martin Luther King's 6 Principles of Non Violence. The Year 6 students unpacked the principles at the recent school meeting and presented their anti-bullying posters.