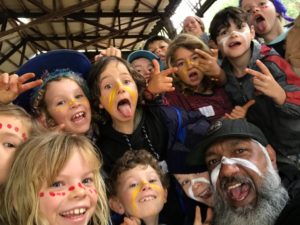 Immersing in indigenous culture was just one of the many activities MRIS students from Year 2 and 3
enjoyed while on an overnight camp at Wharncliffe Mill last week.
Teachers Ashley Burke and Kate Appleton said the
children also participated in outdoor learning, bush crafts, scavenger hunting and nature play.
"We can't express how grateful we are for the wonderful parent help we received during the camp," said Ashley.
"The kids were also amazing and we all came away from the experience with some wonderful memories and closer bonds."
The students are pictured here with Troy from Ngalang
Wongi Aboriginal Cultural Tours.
Year 4 students will go to Woodman Point , Perth for their camp in Perth in early Term 4.