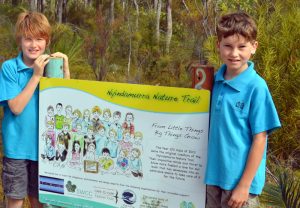 An excellent educational experience with an exceptional environment"… this is the view of the Department of Education after recently granting MRIS an extended registration period of 3 years.
Reviewers from the Department visited MRIS in June to ensure all facets of the school were consistent with government guidelines. MRIS Governing Body chairperson, Nick Dornan said he was delighted with the Renewal of Registration report particularly comments about the MRIS's "commitment to the values embodied in the school", the "holistic approach to the curriculum" and the students, who were described as "fully engaged, confident learners".
Also praised in the report was the "dedicated governing body"; "the bright friendly classrooms which allow all students to have access to outdoor areas"; and "subject specific learning areas such as the music and art areas."
The school's nature-based focus received good feedback with The Nyindamurra  Nature Trail described as "an incredible environmental addition to the school grounds", and the newly launched Little Indies Discovery School for 3 year olds as fostering "a strong connection to the world of science".