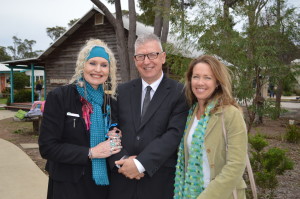 Don't be afraid to let children experience failure or discomfort if you want them to develop into well-rounded, resilient
adolescents and adults.
This was one of the main themes of a series of workshops at Margaret River Independent School by presenter Greg
Mitchell for students, parents and the wider community.
Supported by a $1650 grant from the Department of Local Government and Communities, the special events included an Early Years seminar for students, teachers and parents from Kindy to Year 3; a separate session for students in Years 4 to 6; and an afternoon session for more than 65 parents (about half from MRIS and half from the wider community).
With hilarity, compassion, tasks and songs, Mr Mitchell
challenged students to "have a go", demonstrating that even if you're nervous or you can't do something the first time it is not the end of the world.
He challenged parents not to wrap their children in cotton wool and to let them experience getting things wrong, with the support to keep trying.
Mr Mitchell inspired students, teachers and parents to have perspective about the ups and downs of life, explaining that in his family when someone was 'catastrophising' – they were often reminded to "rub it with a brick", which has now       become something of a catchphrase amongst participants.