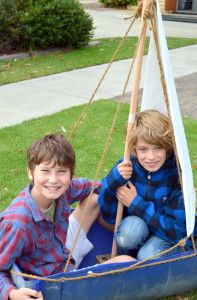 Solving problems was the key to learning in MRIS's senior class today through a hands-on active learning exercise called Problem-based learning (PBL).
Teacher Megan Tiller said PBL is a student-centred pedagogy that involves a dynamic classroom approach in which students acquire a deeper knowledge through active exploration of real-world and open-ended problems. "Students learn about a subject by working for an extended period of time to investigate and respond to a complex question, challenge, or problem," Megan said. "The goals of PBL are to help students develop flexible knowledge, effective problem solving skills, self-directed learning, effective collaboration skills and intrinsic motivation.
Sholto Armstrong and Billy Freeman (pictured) designed a boat that uses wind energy. "To make the boat we cut a plastic drum in half, then we drilled holes about 2cm high in the sides of the boat. We cut  a 124cm high mast and attached a rope and then a sail" the boys explained.
Other projects include a solar oven, waterwheel pump, lasers, and an aqua turbines.