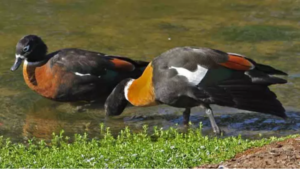 A beautiful pair of Mountain Ducks have made the
Nyindamurra Nature Trail their home.
Mountain ducks, also known to the Noongar, as "guraga" pair for life – even before they are
mature enough to reproduce – and return to the same nesting site year after year. The ducks were identified by MRIS Wardandi Mentor , Josh Whiteland and the Year 3 class when they were on the track recently.
Yr 3 teacher Ashley Burke said the ducks have nested in a tree.
Despite its name, the
mountain duck is a lowland dweller and is Australia's largest duck.