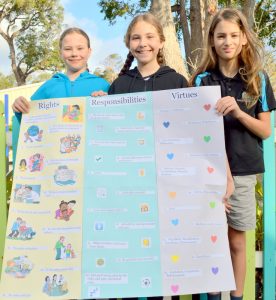 The 'Rights of Children' were in the spotlight recently for MRIS Year 6 students as part of the school's health curriculum.
Students discussed 'rights' like education, shelter, food, and  safety  as well as responsibilities required to allow people to have their rights supported, for instance… following the rules or standing up for their rights and their rights of others.
Year 6 teacher, Laura Nicholls said in addition to learning about Rights and Responsibilities, the class decided to weave the school's underpinning ethos – 'The Virtues' into the subject.
"Our students realise that they need to use their virtues to enact their responsibilities"
Students created 'Rights, Responsibilities and Virtues' posters which can be viewed around the school.