EXCITING news for MRIS's Patron Author, Davina Bell, in being awarded 'Best Children's Book from a Small Publisher for 2016' for her book "Underwater Fancy-dress Parade".
Davina received the Australian Book
Industry Award in Sydney last week.
She said it was "unexpectedly nice" to receive the recognition.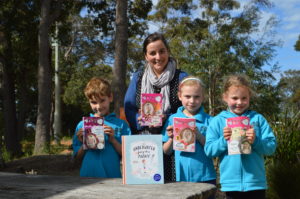 Book of the Year went to Magda Szubanski's "Reckoning" and Tim Winton was awarded Non-Fiction Book of the Year for "Island Home".
MRIS students have workshopped with Davina over the last 3 years, including on the actual development of another book, due for release in 2017. Former MRIS students, Ellenor and Bryn will be reading Davina's 'award-winning' book at the RWF Children's Exhibition at MRIS on June 4. Come along and be inspired to make your own fancy dress accessories out of old books. Davina's books will be for sale at the exhibition, including the 'Alice' books she wrote for the 'Our Australian Girl' series.