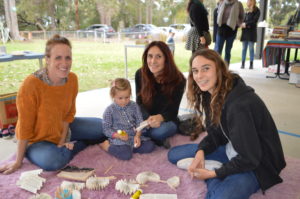 Fine weather allowed for lots of laughter and play around the PAC on Saturday. Around 70 people gathered to spend an afternoon building miniature playdough houses, folding paper fans, building cardboard cubbies and developing a colourful chalk writing trail around quotes about home from various children's books.
Children enjoyed book readings by former MRIS student Ellenor Sibon (Davina Bell's "Underwater Fancy Dress Parade") and Sally Fawcett (her recent release, "What Could It Be"). Members of the MRIS Ensemble supported the Yr 2/3 class performing "This is a poem that is also a song!"
Entries in the inaugural Children's Visual Stories Competition were on display, with the winners announced at the end of the event; artists John Garde and Su Berghuis-Garde, judged the competition and were impressed by the creativity and diverse interpretations of the competition theme, "Home".
Also on display was a reflection of our school's classroom efforts, with each class preparing book art – involving pictures of home, models of home and favourite bedtime stories, Little Red Riding Hood studies, folded-book animals, treehouses and poetry. The event's theme, Home, was a lovely match to our school, which is built upon close links between school and home and with parents involved in sharing the learning journey with their children and the school staff.
Congratulations to:
Rozy Edwards, winner of the MRIS Book Raffle.
The award winners of the Inaugural Children's Visual Stories Competition, run by Arts Margaret River:
o Joint first: Zoe McKenzie's "Paper Log Cabin" (Little House on the Prairie) and Emma Heyink's "Nyumbani" (Home in Swahili)
o Second: Emmasynn Manser's Paper collage "Backyard"
o Third: Alex Milward's "My New Home"
Two MRIS Parents, Kyllie Deltondo and Mirella Prolongeau for their top placings in the Adult Visual Stories Competition.
Thanks to all the staff and parents who supported MRIS's activities for the Margaret River Readers and Writers Festival.