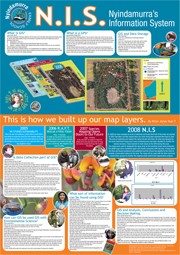 Student and teachers were excited to hear they had won not only the WA Spatial Science Institute's geographic information systems award for the third year running, but also the National Prize for Excellence for their work. Well done to all involved! Please click here to view a larger poster. New Computers, Playground Equipment and the Hardcourt The school is pleased to announce that the 'Investing In Our Schools Programme' project valued at $72,000.00 from DEEWR managed by AISWA for WA Independent Schools is now complete. Thanks to Denise, Robert, Gus and all those involved in the process of completing the project (Upgrade of Computers, Playground Equipment and the Hardcourt).'Drawing on Nature – when Art meets Science!' During 2007 students at Nyindamurra Family School mapped the species in the forest surrounding their school. With the assistance of two scientists and an artist, they documented some of the plants and animals in the area for the first time. 'Drawing on Nature – When Art meets Science' is the finished product.Its an environmental science resource book that inspires bird-watching, frog-watching, drawing, painting, classifying, species monitoring and science projects in any environment. Fascinating facts and tips for valuing marri-jarrah forest biodiversity. Be amazed and delighted by what kids can do. This wonderful 36 page book cost $22. Please contact the School for more information. Celebrating 25 years of NFS media project The documentary is now complete and available on DVD from the school. A wonderful film which captures the essence of the school through time. Well done to all students, parents and staff who contributed. WALIS GIS Competition Winners 2006 and 2007 Primary School Section 2006 – RAFT – Rescue a Frog Today 2007 – Species Mapping opens the door to our Future

Click here to download a brief description of our project.

Click here to view our winning entry.  For more details go to… https://www.walis.wa.gov.au/stis-competition-winners
Click here to view our entry for An online history of our GIS sustainability work.