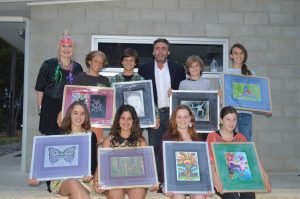 The Graduating Class of 2013 was farewelled at the annual Margaret River Independent School's Christmas Concert held last week.
 Year 7 students, Tanah Howden-Woodland, Ellenor Sibon, Gemma Cotterill, Florence Buckland, Janaya Beddow, Hugo Douglas, Sol Garland and Alister White received framed artwork which they created during art class.
Also leaving the school is Gus Barker. After 15 years as a teacher at the school, Gus is moving to France to establish at French retreat in the Loire Valley.
Following the graduation ceremony, students from all years presented a range of plays and musical items which were very well received by the audience.
 Margaret River Independent School Principal, Wendy Roediger and Year 6/7 Teacher, Gus Barker with the graduating students of 2013. Back row (from left to right) Alister White, Sol Garland, Hugo Douglas, and Tanah Howden-Woodland. Front row (left to right) Gemma Cotterill, Janaya Beddow, Florence Buckland and Ellenor Sibon.