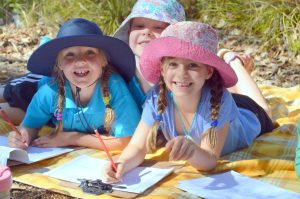 MRIS students, Willow Hardy, Emma Heyink and Sana Evans of Year 2/3  learned all about the school's native forest during Bush School which was held recently on the Nyindamurra Nature Trail.
The Bush School is a new programme running in conjunction with the recently constructed trail.
Teacher, Kylie Chatto said the students are not allowed in the classroom and instead spend the day enjoying  outdoor workshops run by parents and invited experts.
"Students learned how to make bush shelters, identify native creatures, and create dream sticks," she said.
The Next Bush School will be held in Term 3.