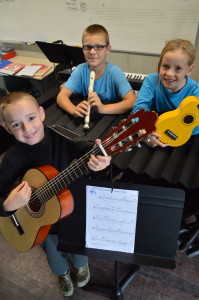 Making music at Margaret River Independent School has hit a new high thanks to the school's investment in new music stands.
School music lessons, the MRIS bands and ensemble will benefit  from the American made, state-of-the art orchestra stands which fit together in a compact and mobile storage trolley,
Music teacher Pam Tuffin said the stands were versatile and a pleasure to use, and the space-saving trolley freed up valuable space for the Nyindamurra Performing Arts Centre classroom/backstage area.
Pic-cap – (Left to right) MRIS Music Ensemble members Rio Haigh,  Jarra Mills and Amelia Glass are making good use of the new music stands.