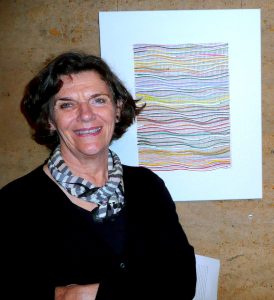 Renowned West Australian artist, Eveline Kotai has donated one of her artworks to the 9th Annual Margaret River Art Auction. The Margaret River Independent School fund-raising event will be held at 6pm on May 31 at the Margaret River Cultural Centre.
A former Margaret River resident, Eveline lived in the shire with her artist husband, Giles Hohnen in the 1980s drawing much inspiration from the beauty of the area.
She has won various international awards including the prestigious 2012 Blake Prize. Her works are held in National and International collections including the National Gallery of Australia, and  the Kerry Stokes and Holmes a Court collection.
Eveline's donated work, 'Ripple 3' is a collage  incorporating acrylic, paper, linen, and nylon thread.
This is the second time Eveline has donated to the Margaret River Art Auction
"I drew a lot of inspiration from the Margaret River area drawing local landscapes  for seven years, I then moved to Fremantle and my work took on a different direction.," she said.
"I have always been interested in drawing changing seasons and shifting light so it was a natural development for me to capture the abstract feeling of a season, a light, or a pattern in a landscape or in water."
Eveline said she uses stitches to create a 3d look as they add light and shadow to the pattern.
" I try to make my work reflect patterns evocative of the landscape without spelling it out."
She said she was pleased to donate her art to the Margaret River Art Auction because the money raised will assist Margaret River Independent School.
"MRIS offers a nurturing, happy small school environment with an emphasis on the Arts, as well as different types of learning outside the mainstream education system."