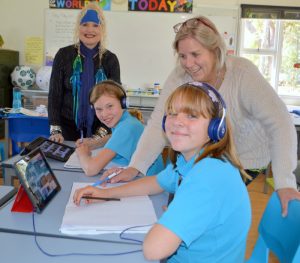 The recent implementation of Remote Learning at MRIS during the current Covid 19 pandemic was embraced by staff, parents and students demonstrating an excellence in on-line teaching.
As the school reintroduces face-to-face learning in physical classrooms this week, MRIS Principal Wendy Roediger (pictured left) said Remote Learning programs put into action during recent weeks, in response to community social isolation procedures, had enabled teachers to confirm the suitability of their tailored programs.
"Our staff have invested considerable time and expertise in delivering remote learning very well and ensuring the continuity of our students' classroom programs." Ms Roediger said. "We are pleased to be returning to a face-to-face teaching mode as we believe it is the most effective delivery of education, however, it is important to know we can provide effective Remote Learning that is feasible to revert to, should there be a requirement to do so in the future."
Ms Roediger praised her staff for their dedication in providing a high-quality, engaging on-line curriculum. "The flexibility, enthusiasm and collaboration of MRIS staff has been inspiring," she said.
Year 6 teacher, Laura Nicholls (pictured) said she was relieved that MRIS Remote Learning was successful and would ensure a seamless transition back into the classroom. "Most importantly it is wonderful to see our students again and have them happily back in their classrooms."
MRIS parent feedback reported high satisfaction with Remote Learning citing support from the school as "amazing, impressive, calm and positive."
"I have been very impressed by how proactive the amazing teachers and staff have been getting used to remote learning." MRIS Parent
"Many thanks to all the beautiful teachers for everything you do…. it has been a rather strange and stressful time… and we are grateful for your sense of calm, positivity and kindness." MRIS Parent