Influential educator, Professor Helen Street presented a parent education workshop 'Better than Ok. Helping young people to flourish at school and beyond' to the Margaret River community last week. She also facilitated a Professional Development day with MRIS staff which was very well-received.
Hosted by Margaret River Independent School, Helen, who is a an applied social psychologist has a passion for education and improving mental health in children She has appeared as an expert guest on television and radio for many years.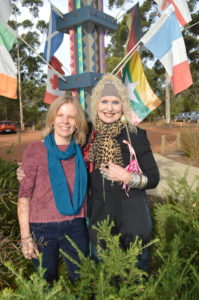 Principal Wendy Roediger said  Prof. Street educated parents and staff on what equity in schools looks like and how this can be implemented.
Strategies for well-being with Prof. Helen Street
Learn to BREATHE – Calmness comes One breath at a time
Develop your ideal Self- take time to create the Life you want -albeit in small steps
Pay Attention–be aware / use Mindfulness / Count 1-10 breaths
Find some extraordinary TIME – do something YOU WANT TO DO for 2 hours per week. "Switch off regularly and lose track of time"
Simplify to Survive–about Wants/Needs….. not should/could/would
Do one thing at a time- time and attention
Be Kind – have self-compassion – you do not have to be Perfect