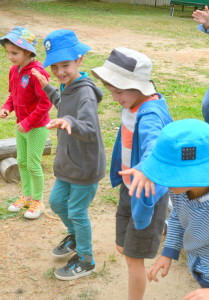 Preserving  indigenous language came into focus at Margaret River
Independent School last week.
Fremantle scientist,
Tim St Pierre, a passionate  indigenous language enthusiast visited the school to teach the students indigenous language, story-telling and dance.
Tim is also uncle to MRIS student, Imogen St Pierre.
Teacher Ashley Williamson said the class discussed Noongar words before heading outside to assemble a camp fire (which was not ignited), listen to the story of local legend, Woodidji, an
Aboriginal man who is said to have created the river that we now call the Margaret River, and take part in their own traditional dance.
"We were thrilled to have Tim visit our school and share his extensive knowledge about indigenous language with us. His visit ties in so well with our work in Bush School and the strong links we are trying to instill in our students and the cultural understandings that form such a solid part of our nature program."