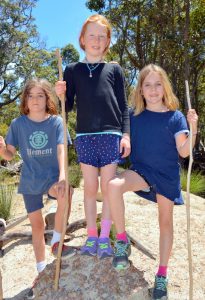 Hand-made digging sticks will be a feature of MRIS's Year 3 students upcoming Tour Guiding Night   on Dec 7.
The sticks were carved out of peppermint trees under the guidance of Josh Whiteland as part of the school's Wardandi Mentor Program and traditionally  are used for
digging or warding off snakes.
Students are practising their tour talks and will use the sticks, which they will paint next week, as props during the night walk on the Nyindamurra Trail. Parents are invited to join the guided walk and afterwards enjoy a BBQ.
A mindfulness colouring-in map created by the Yr 3s and renowned children's illustrator, Coral Tulloch will be on sale and are now available from the office for $2.