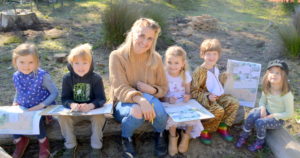 The mystery of maps was unfolded for the Pre-Primary and Year 1 MRIS students this week as part of the school's Geography and Maths Curriculum.
The students were fortunate to have Landscape Architect and MRIS parent, Nicola Anastas explain about design, scale and mapping.
Nicola showed the class how she uses mapping in her work and how to use a school map to locate key features on campus.
Pre-Primary teacher, Ann Murray said students then worked individually on adding features to a map of the Nature Park area located behind the Pre-Primary classroom.
"Next week we will work on incorporating elements identified by the children onto one large map," Ann said. Design features include a permeable fence, decking, a water course and a shelter. Plans to landscape the Nature Park area are being considered by the school.