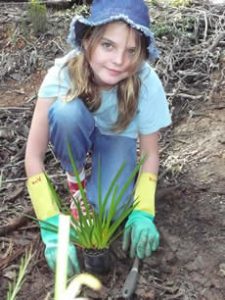 REVEGETATION of Margaret River Independent School's Frog Bog got underway recently with students from Year 4/5 taking time out of the classroom to plant frog-friendly vegetation.
The Frog Bog is part of the ongoing Nyindamurra Bushland Reserve project and aims to provide habitat for local frogs especially the endangered geocrinia alba species.
MRIS science teacher Peter St Clair Baker said the students mapped out the areas to be revegetated and plotted sections where regeneration had already occurred.
Plants were kindly donated by Cape to Cape Catchments Group and the Augusta-Margaret River Shire.
Helping Revegetation: MRIS's Ava Wilson plants a frog- friendly plant.