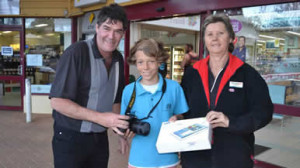 courtesy of the Augusta-Margaret River Mail, 3rd July, 2013
MARGARET River Independent School is embracing its 'tech-savvy' status thanks to a recent donation of $2000 from River Fresh Margaret River IGA.
The school used the gift to purchase a new digital SLR camera and three multimedia tablets from Margaret River Photographics.
MRIS has recently spent about $50,000 on technology rewiring, computer upgrades and installations to connect the school to the internet.
The Year 4/5 and Year 6/7 classrooms also have equipment for students' computer use and studies.
Teachers have been provided with iPads to use in the classrooms and students have received donations of computers from the South West College of TAFE in Margaret River.
MRIS governing body chair Nick Dornan said the IGA donation was much appreciated, allowing the students to undertake macro-photography as part of the school's Nyindamurra Bushland Reserve project, as well as allowing staff to take quality photographs for the school website.
River Fresh IGA donated the funds from its Wish List program which accumulates from checkout donations and plastic bag purchase
Gift of Technology: Ian Bilson of Margaret River Photographics, Margaret River Independent School Year 7 student Alister White and IGA assistant manager Janelle Teale with some of the goodies the school has received thanks to $2000 Community Chest donation from IGA Margaret River.