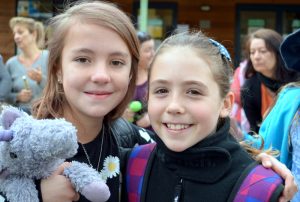 A bus full of eager Yr 4/5 students from MRIS headed off for their annual school camp on Tuesday.
Accompanied by their teacher Lindsay Burke and a group of excited parents, the students will stay at Woodman Point in Perth until Friday.
Activities planned include a trip to Perth Zoo,  a Flying Fox exercise, Scitech, dinner at Cicerellos, an historical night tour and a Search and Rescue activity.
MRIS camps assist with  student independence and classmate bonding, and are organised for Yr1 to Yr7.
High Adventure: Yr 4/5 students Susha McRostie and Mia Coleman packed up and ready to go on  the Woodman Point Camp on Tuesday.