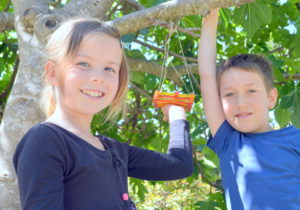 Designing and building a bird feeder saw some interesting structures built by the Yr 2/3 class this week.
As part of the STEM (Science, Technology, Engineering and Maths) Bird Feeders Challenge, the students were set the task  of building a bird feeder with a number of constraints including the requirement for a perch, the ability to support the weight of seeds and birds, and an attractive finish.
Teacher, Kate Appleton said the variety and innovation to come out the challenge was wonderful.
"We have quite a few bird feeder masterpieces which the students have enjoyed building and we hope the birds will enjoy using!" she said.