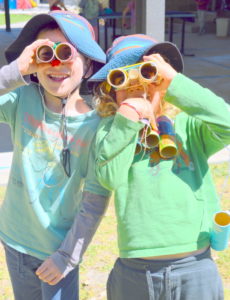 Being sensory aware and inspired by nature was a focus of Year 1 Bush School on Wednesday.
After a morning yoga session, students rotated through four workshops which included snake knowledge and snake bite first aid; sensory
awareness and a meditation session which resulted in students identifying their own animal totem which they then modelled in clay.
The class also created Worry Dolls.
Conducted by parents, the workshops feature activities and opportunities that inspire the students to actively engage in the learning adventure.
Year 1 teacher, Skye Robertson said the children loved  the opportunity to be outside the traditional classroom for the entire day.
"We work to get the children to look for the magic in nature and then let nature take over as the teacher."