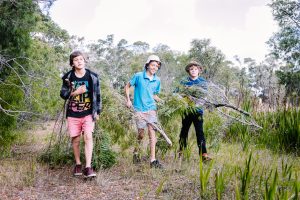 BUILDING a traditional Aboriginal hut was a highlight for the students of Margaret River Independent School when Josh Whitehead of Koomal Dreaming visited the school recently.
The students collected peppermint tree branches to weave into the Mia- Mia structure forming a traditional style hut in the grounds of the Kindergarten and Pre-Primary.
Mr Whitehead said his Wardandi  heritage inspired him to educate children about the importance of Aboriginal culture.
"I do it to create cultural awareness. Without educating children about aboriginal culture, the skill and importance of it may disappear" he said.
The Mia Mia was erected as part of MRIS's Kindy-Pre-primary Nature Playground Development which aims to re-develop the space in line with nature-play principals. Stage 1 of the development is set to start in August and will include shade trees and shrubs for natural cubby building,, a bridge, seating and benches, and the re-furbishment of the school's original outdoor xylophone. Stage 2 and 3 will see the development of a vegetable garden and sensory garden.
Making a Mia-Mia: MRIS year 7 students Sol Garland, Alister White and Dalton Marsh collect peppermint tree to make a Mia-Mia in the school grounds
Photograph courtesy of Mark Boskill, Elements Margaret River.elements margaret river | photos and stories from our community. music, surf, arts, events.