courtesy of the Augusta-Margaret River Mail, 17th April, 2013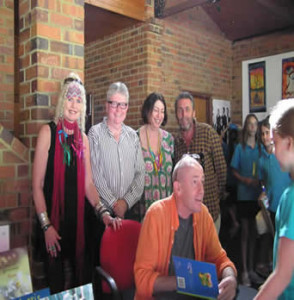 MORRIS Gleitzman, international best-selling author and hero to thousands of aspiring young writers, visited Margaret River Independent School recently.
In town to speak at a seminar hosted by school and the Association for Independent Schools WA, Gleitzman toured the school and donated 12 signed novels.
More than 100 students and adults attended the meet-the-author session and book-signing at the Cultural Centre.
Gleitzman's books explore serious and sometimes confronting issues in a humorous light, and have been published in more than 20 countries.
He also wrote scripts for the Norman Gunston Show.
Growing up in England, Gleitzman emigrated to Australia when he was 16.
He has had a variety of jobs including a frozen chicken thawer, a fashion industry trainee, Father Christmas, a television producer, newspaper columnist and freelance screenwriter.
His books are available at the Margaret River BookShop.