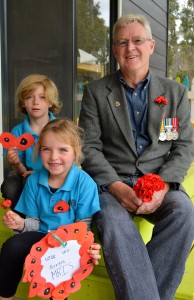 HOME-MADE red poppies went on sale at Margaret River Independent School recently to commemorate Remembrance Day and raise money for Margaret River Returned Services League (RSL).
Constructed by the Pre-primary students, the colourful cardboard flowers were sold for 50 cents each raising more than $70.
Pre-primary teacher Debbie Pendlebury said the class discussed the significance of the poppy, learned about war-time conflicts and constructed their own battlefield.On Remembrance Day, the whole school observed a minute's silence and laid a wreath in memory of those who have died or suffered in the line of duty.
Margaret River RSL secretary, Rob Scott visited the school on Tuesday to talk to the Pre-primary students about his own war-time experiences, show his service medals, and discuss how the fundraising efforts would help ex-servicemen.