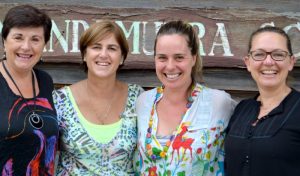 Australia's "Queen of Common Sense" Maggie Dent visited Margaret River Independent School on Wednesday to see first-hand the exciting learning opportunities being offered at the primary school.
Making a special visit to MRIS whilst on a presentation tour of  the South-west, Mrs Dent said she was keen to see the new teaching initiatives at MRIS including  the 'Little Indies Discovery School for 3 Year Olds' – a nature based learning programme and  the ground-breaking 'Bush School' which runs from the newly-constructed Nyindamurra Nature Trail.
Mrs Dent said it was important "to immerse children in interactive play".
"There is a smorgasbord of learning experiences at MRIS", she said "It is impressive to see a school embrace nature play as well as the academics."
"Every child is a little scientist drawn by curiosity to investigate  their environment."
The community is invited to come and have a look at MRIS during the  Little Indies Open Afternoon on Wednesday December 3 from 1-2pm.
Free afternoon tea is provided. Phone the school on 9757 7515 to RSVP.