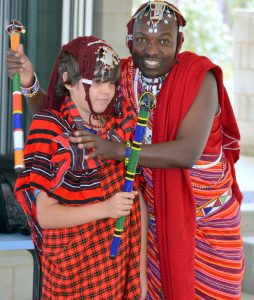 The hardship encountered by Tanzanian school children was highlighted at Margaret River Independent School recently when Maasai tribesman, Felix Mollel visited the school.
Felix, once a cattle herdsman on the remote Tanzanian plains, now travels Australia and Southeast Asia spreading the word about a school that is fighting poverty through education in his community.
Felix shared his remarkable story of growing up in a Maasai tribe and his experiences working at one of the largest charity schools in Africa, The School of St Jude in Arusha.
Students were interested to hear about how St Judes is educating underprivileged Tanzanian children so they can escape a life of poverty.
Felix showed the students footage of life at St Judes and dressed Yr 5 student, Jett Higgins in the traditional Maasai tribal costume.