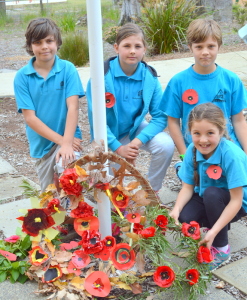 MRIS held a Remembrance Day Service on Tuesday,
attended by students, staff, parents & grandparents
The service was conducted by the students, with each class laying a handmade wreath under the flagpole.
The flag was flown at half mast.
Year 2 student Willow Hardy read a poem she composed when she was 7 years old (see below).
Paper poppies made by the Kindy/Pre-Primary class were sold & raised $90 for the local RSL & Red Cross.
Remember
By Willow Hardy
Ships leave the harbour, crowds of children wave to all the soldiers who are very brave.
To go off to war, fight for freedom, they're nervous and sad and not at all glad.
Leaving their family, the town that they are from, with all their memories from a little one.
Back at home women take over the land, doing jobs that they have never done in hand.
The children weep in their sleep thinking of their fathers at war and what is it all for.
A few years later some fathers come back, others are not as lucky as that.