MRIS's second annual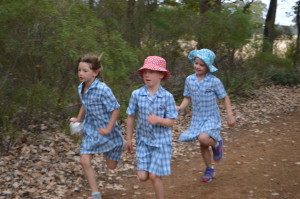 Fun Run was huge success with students from Pre-Primary to Year 6 putting in a huge effort during the hour long run.
Younger students ran 500 metre loops while the elder children ran kilometre circuits. Fun Run orgraniser and year 3/4 teacher Lindsay Burke said the dedication and enthusiasm of students during the run and in pre-training sessions was fanstastic.
Money raised through sponsorship of the runners will go towards buying new sport equipment.
Lindsay said the successful event was a community collaboration and thanked St John's Ambulance for attending, RiverFresh IGA for a $100 donation for fruit and all the parents who assisted.