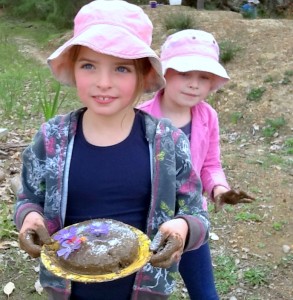 The Science of Mud Pies: Pia Bawden and Matilda Lukac (Yr 2) present their  mud pies
As part of the Australian Curriculum, MRIS's Year 2 class recently took to the great outdoors to test out Chemical Science by creating mud pies.
"We are surrounded by mixtures, the air we breathe, food, and the things we use in our home to clean with,"Yr 2 teacher, Ashley Williamson said.
"In order to better understand mixtures,  the class experimented out in the bush making ooey, gooey, chocolate mud pies." She said the experiment was perfect for the classroom theme this term of chocolate! The class will visit the local Chocolate Company later this term.