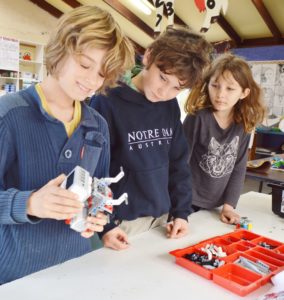 Further construction of Margaret River Independent School's EV3 robots (Lego 45544) got underway recently inspiring student curiosity through robotic fun. The robots have been purchased thanks to a $2000 STEM grant (Science, Technology, Engineering and Maths) from AISWA and a generous parent donation.The use of
the robots will inspire the application of Science, Technology, Engineering and Mathematics for both students and teachers in the classroom. The program is being supported by local engineers and scientists which provides the bonus of practically demonstrating career paths in STEM. Four Robot Starter Packs  have been purchased which are being introduced into the Year 4-6 classrooms with future extension to Years 1-3.
Come  to Open Day on Saturday and see the robots in action!