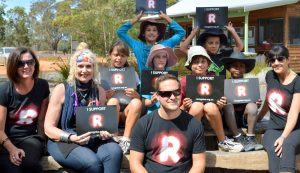 CAMPAIGNERS from ' Journey to Recognition' made a pitstop at Margaret River Independent School last week as part of its historic Nation-wide trek to recognise Aboriginal and Torres Strait Islanders in the constitution.
Walking from Margaret River to Karridale provided the perfect opportunity for the group to educate students and staff about Recognise and show clips from their 15,800km journey.
Recognition's Shaya Lambrechtsen said the campaign kicked off in May last year.
"We are currently in the midst of a nationwide Journey to Recognition to build momentum for a referendum," she said. "So far this journey has involved walking, cycling, driving and paddling through Melbourne, Adelaide, Alice Springs, Darwin, Broome and Perth stopping along the way in about 90 communities and involving more than 7500 Australians."
The students enjoyed the visit and invited the group to look over the newly built Nyindamurra Walk Trail in the school's adjacent bushland.