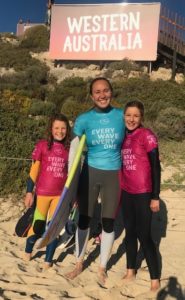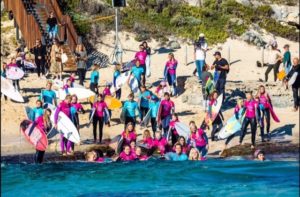 OLIVE CATCHES THE RISING TIDE!
The Margaret River Pro Surf Comp is here! I have been really excited. This year at each event local surf girls have been invited to join a program called Rising Tides. Rising Tides encourages girls to get out in the ocean and surf. It's an all girl surf session at the comp break with the pro girls!! My favourite pro surf girls are Carissa Moore from Hawaii and Bronte Macaulay from Gracetown. The Rising Tides was held yesterday at Main Break with waves at 5-6ft. We got to meet all the pro girls who were really nice and kind. I was super lucky last year and met Carissa a few times because she was staying on our street. She recognised me this year and we paddled all the way out at main break together. She is so friendly and funny and such an amazing surfer. Her favourite spot to surf on tour is Hawaii, it's the last comp of the year and in 2018 she won and got a perfect 10. I would love to go to Hawaii and surf with Carissa. I hope Carissa and Bronte end up in the Margs final together.
It was a really fun day and thank you to everyone who organised Rising Tides and MRIS for letting me have the day off school to go along.